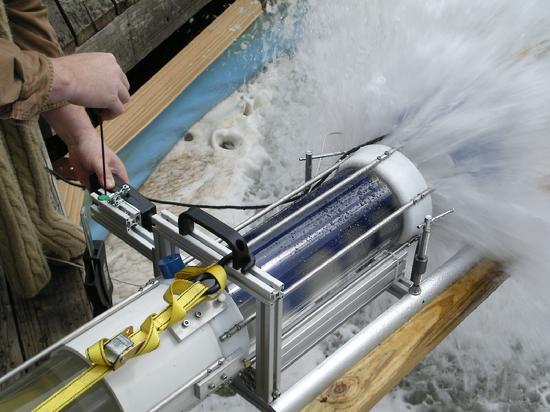 Water can enter through NPT-fitted white collar under handle of carrying frame.
HOME
The water-electricity nexus in a compact package:

"Hydropower in a Helical, In-Line Turbine":
for

Low-Head

Micro Hydro.
High power
in small size,< 2 ft2 footprint.
One person may set up --> electricity.
Portable.
Modular scale-up in multiples.
Convert energy from flowing water.
Simple, with OR w/o prior infrastructure.
"Harvesting electricity--from untapped water resources.

"sm
__________________________
Unparalleled FLEXIBILITY of HydroCoil turbines:
Install IN or OUT of the water.
RETROFIT, or for new locations:
wwtp, dam tailrace, fish farm, industry, LEED bldg.
DISASTER Preparedness

&
EMERGENCY Management
.
Mitigate the loss of traditional electric power.
Scott Sklar of SolarSklar, energy consultant in Washington, D.C.--
--"HydroCoil turbines are terrific, terrific for hydro renewables worldwide--Africa, Asia, wherever..." (oct.2014)
--"I need HydroCoil turbines for our fish farms"
--"How many of your turbines for a power generation plant on a river here?"
--"Send me HydroCoil turbines for the water effluent from thermal electric plants"
--"would like to become a distributor in Southeast Asia"
Jim in Washington, D.C.--
--"

HydroCoil looks good for installing at fish farms project

"
Jack in the Netherlands--
--"propose adapting your turbines for boat canals"
--"How many HydroCoil turbines and how much electricity for a water treatment plant?"
--"to use for tidal flow and for lobster ponds"
--"can our company be a distributor for HydroCoil in China?"
--"would like to install at our low dam in New Jersey"
DEMONSTRATED: Over 1.5 kW in a small, light unit.
FUNCTION & OUTPUT:

Proven.



A family of patents and designs:
-3- NEW PATENTS since April 2012,
-4- BASIC DESIGN configurations,
plus PATENT PROTECTION into year 2028,
with broad coverage on shape, dimensions, materials, fields of use.

#8,148,839 reg. USPTO, issued April 3, 2012
#8,350,400 reg. USPTO, issued January 8, 2013
#8,546,969 reg. USPTO, issued October 1, 2013.
plus initial as well as foreign patents.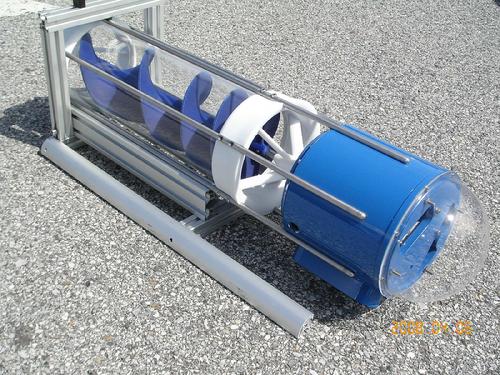 HydroCoil [R] Turbine--~6" x 34", ~40 lb., < 2 sq.ft.
Visit
www.hydrocoil.com
for global applications and market opportunities..
Inquiries and comments?--contact us.
Streaming water rotates the coil.

Website most recent update: June 30, 2015
The HydroCoil inventions and technology depicted herein are protected under patents registered USPTO #6,357,997 ; #6,626,638 ; #8,148,839 ; #8,350,400; and #8,546,969. + patents issued overseas.
HydroCoil [R] is a registered trademark owned by HydroCoil Power, Inc. Marque de'pose'e de HydroCoil Power, Inc. "Harvesting electricity--from untapped water resources", and "Electricity tomorrow where there was none today", are service marks of HydroCoil Power, Inc.

Logo, text, slides, photos, and video, copyright HydroCoil Power, Inc., 2006 - 2015 All rights reserved. May not be used without express written permission.
News media identifiers or titles are copyright per those organizations.

Note: HydroCoil turbine information on YouTube[R] from prior years is out-of-date.

Trade shows, publications, business practices, client contacts, agency intercession, grants awarded, and patent applications will be monitored. Any infringement on our intellectual property, issued patents, proprietary information, business or marketing plans, or previously established contacts will be vigorously pursued by all available remedies.
Website powered by Network Solutions®