EARLY: operational HydroCoil turbine generated over 1.5 kW from an 18 kg. unit.
NOW: Computer-based analysis - CFD - validates the science independent of HydroCoil Power. **
HOME page.
The water-to-wire solution for
electricity.
It's time for the next step.


"Hydropower in a Helical, In-Line Turbine":
for

low-head m

icro hydro, with VETT =

venturi-enhanced turbine technology.
Over 1.5 kW from

one

unit, < 2 ft2 footprint.
One person may set up --> electricity.
Portable. Modular s
cale-up in multiples.
Energy of flowing or stored water--> Electricity.
Simple, with OR w/o prior infrastructure.
No dams to build.
"Harvesting electricity--from untapped water resources.

"sm
__________________________
Unparalleled FLEXIBILITY of HydroCoil turbines:
Install IN or OUT of the water.
RETROFIT, or for new locations (for ex.):
WWTP-storm drain-dam tailrace-fish farm-LEED bldg.
DISASTER Preparedness
.
EMERGENCY Management
.
HydroCoil(R) turbines for electricity--see next page.
COMMENTS:

Scott Sklar of SolarSklar, energy consultant in Washington, D.C.--
--"HydroCoil turbines are terrific, terrific for hydro renewables worldwide--Africa, Asia, wherever..." (oct.2014)
--"I need HydroCoil turbines for our fish farms"
--"How many of your turbines for a power generation plant on a river here?"
--"Send me HydroCoil turbines for the water effluent from thermal electric plants"
--"would like to become a distributor in Southeast Asia"
Jim in Washington, D.C.--
--"

HydroCoil looks good for installing at fish farm artesian wells project

"
Jack in the Netherlands--
--"propose adapting your turbines for boat canals"
--"How many HydroCoil turbines and how much electricity for a water treatment plant?"
--"to use for tidal flow and for lobster ponds"
--"can our company be a distributor for HydroCoil in China?"
--"would like to install at our low dam in New Jersey"
** DEMONSTRATED & PROVEN:

Over 1.5 kW from a small, light, injection-molded unit.

Certified by U.S. engineers in low head, low flow conditions

NOW: **"Hydrocoil Turbine Performance at 3 m, 4 m, and 5 m Head ...", A.A. Luthfie et al 2018, Universitas Mercu Buana, Jakarta

Their

CFD

analysis

offers validation of design shape & successful operating parameters, & with 89-94% efficiency (independent of the 82% range reported by a defense industry engineer consulting on the HydroCoil turbine

4-trial data

, no CFD).

FUNCTIONAL:
Inside pipes ? Rooftop water towers ?

Floods ?



Oil or water extraction processes ? WWTP's ? Irrigation canals ?


Power to electrical equipment in remote territories or oceans ?

Stand-by, Off-grid, Emergency, Distributed ?

MAINTENANCE: Minimal.

A family of patents and designs, short payback opportunity:
5 PATENTS for hydrodynamic moderate-speed screw turbines (Ribbon Drive Power Generation..., referred to by Luthfie et al as "

rosefsky Hydrocoil"

):
4 alternative design configurations include
broad coverage on shape, dimensions, materials, fields of use.

PATENT PROTECTION into year 2028.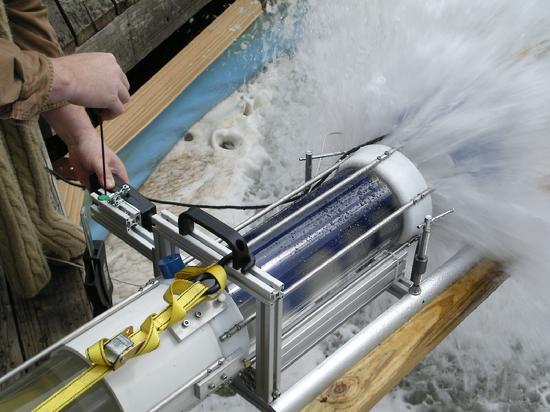 Water can enter through NPT-fitted white collar under handle of carrying frame.
3 comprehensive

Ribbon Drive power generation Patents:
#8,148,839 reg. USPTO, issued April 3, 2012
#8,350,400 reg. USPTO, January 8, 2013
#8,546,969 reg. USPTO, October 1, 2013.
plus 2 initial as well as 2 foreign patents.
Look at them. Creative. Unique yet predictable fluid dynamics.

Help provide power, where there isn't.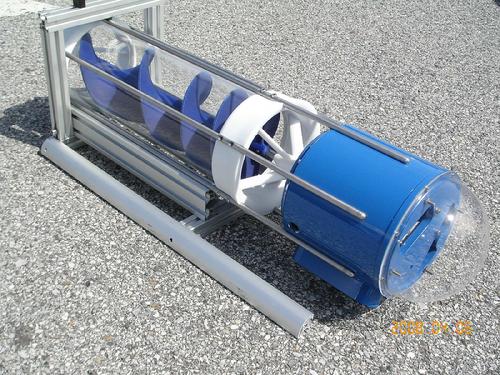 HydroCoil [R] Turbine--~6" x 34", ~40 lb., < 2 sq.ft.
You are encouraged to help change the world for the better.
Need more energy generation from sustainable resources.
Visit
www.hydrocoil.com
or call 201-404-1185
for global market investment & sales opportunities.
Streaming water rotates the coils.

Website most recent update: January 22, 2020

The HydroCoil inventions and technology depicted herein are protected under patents registered USPTO #6,357,997 ; #6,626,638 ; #8,148,839 ; #8,350,400; and #8,546,969. + patents issued overseas.
HydroCoil (R) is a registered trademark owned by HydroCoil Power, Inc. Marque de'pose'e de HydroCoil Power, Inc. "Harvesting electricity--from untapped water resources", and "Electricity tomorrow where there was none today", are service marks of HydroCoil Power, Inc.

Logo, text, slides, photos, and video, copyright HydroCoil Power, Inc., 2006 - 2018. All rights reserved. May not be used without express written permission.
News media identifiers or titles are copyright per those organizations.

Note: HydroCoil turbine information on YouTube(R) from prior years is out-of-date.

Trade shows, publications, business practices, client contacts, agency intercession, grants awarded, and patent applications will be monitored. Any infringement on our intellectual property, issued patents, proprietary information, business or marketing plans, or previously established contacts will be vigorously pursued by all available remedies.
Website powered by Network Solutions®