SEE THE REALITY. SEIZE THE OPPORTUNITIES. BECOME A NATION-BUILDER.
After an EDA photoshoot for renewable energy
ENERGY generated in shallow or deep draft water, or INSIDE pipes. Versatile. HydroCoilPower, Inc.--sole source of HydroCoil the turbine.
Designed for many natural - industrial - realty - municipal - military sites
Tap potential or kinetic energy in water at existing infrastructure.

Low cost--with short payback, high daily percentage availability, most parts

injection-molded

.

With quick-fit side attachments--plus NPT threading front & rear.


Versatile, Modular & Adaptable--such as:

wastewater treatment MWTF / WWTP, canals, water

conduits

irrigation systems, stormwater run-off,

run-of-river

pipes in high-rise buildings

, industrial processes including--

paper, textile, or pharmaceutical manufacturing

& Emergency readiness, disaster preparedness--with rapid, managed response to provide electricity by accessing flowing water.
SIMPLICITY of a tested, original DESIGN, EASE of INSTALLATION--add to Current Structures:
--incorporate at untapped assets such as locks in canals, dam tailraces, non-electrified dams, under pontoons in rivers, at bridge piers.
--in northeast U.S. alone, up to 10,000 megawatts of new hydro capacity to develop (10 million kW).
--as carbon-neutral, non-polluting, alternative energy from gravity & flowing water.
--NOT building new dams or burning carbon-based fuels.
--Help protect health, the environment, and ameliorate climate change.
--At an approximate peak capacity of 2 kW each, one 6" HydroCoil turbine would = potential 17,520 kWh /year used by consumer, & Save up to $2600 /yr. IF local utility charge = 15 cents /kWh.
--Peak output potential is unmatched in its weight & size category, up to 50 times better than any single turbine in its class.
--Quiet
(see also p. 4--click for Applications)

Original technology with varying helical drive + incorporated venturi.

More electricity than from any other turbine

in its class & size

.
Generate state-mandated renewable energy for the grid, or from water-to-wire distributed power.
Climate-sparing. Low carbon footprint. Decrease reliance on carbon-based fuels.
"Electricity tomorrow where there was none today." sm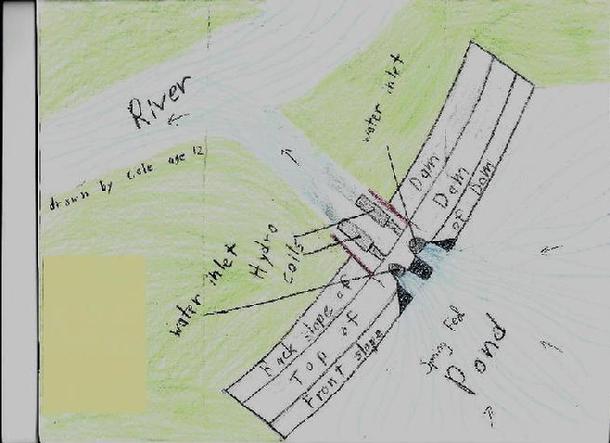 DRAWING CONTRIBUTED BY A STUDENT FOR FAMILY SITE.
Durable. Powerful. Portable. (shown above ground for demo purposes)
--Help protect the environment, and ameliorate climate change.

--Quiet

(see also p. 4--click for Applications)

"Electricity tomorrow where there was none today." sm







Website powered by Network Solutions®